The illustrious Doc Holliday was a well-traveled man, and ended up here, overlooking Glenwood Springs, Colo. Holliday is buried in a quaint hilltop cemetary full of interesting gravestones and markers. To find out why Glenwood is a good place to rest one's bones, check out Glenwood Springs:
Glenwood Springs
Colorado's dressed-down resort town!
At the confluence of the Roaring Fork and Colorado Rivers in western Colorado, Glenwood Springs is for many people a way station on the road to its more glamorous cousin, Aspen.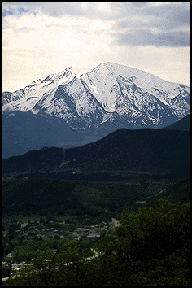 It's easy to rush past Glenwood on I-70 on the way to better-known and more tony destinations. But for those who choose to stay and explore the greater Glenwood area, all the ingredients of a perfect Rocky Mountain destination are close at hand: Tons of mountain bike trails, a dash of western history, hot springs and underground vapor caves, great hiking trails, a quaint ski hill, Amtrak's California Zephyr - the list goes on and on. We won't question why it's one of Colorado's least-familiar destinations, we'll just quietly slip in and out every now and then to savor the ambiance. We won't see John Denver, Gerald Ford or Princess Di while we're here, but we always found that crowd a little passé. They could never keep up with us in the backcountry anyhow.
Surrounded by the White River National Forest, Glenwood is a cyclists' paradise, whether one spins for the road or the dirt. A good warmup is the Glenwood Canyon bike trail, an easy, paved route which follows the Colorado River 18 miles east to Dotsero. Several jumping off points along the way are worth checking out, including the Hanging Lake Trail, a short but demanding 1.5-mile climb. Despite its closeness to I-70, the canyon bike trail offers great views of the Colorado River and the adjacent railroad tracks. Long coal trains frequently chug through the scenic canyon (below).
For those who love thigh-burning dirt climbs, the 3-mile Red Mountain trail, which begins southwest of town, climbs 2,000 feet and rewards its conquerors with a beautiful view of the valley (above). Harrowing deer trails cut the trail's switchbacks. The ride back to town is fast and furious.
Friendly advice and trail maps are available at the Ski Sunlight Ski Shop on Grand Avenue. (We'll be exploring greater Glenwood's many other mountain bike havens in future issues of Cyberwest.)

Hikers will find a picturesque trail along No Name Creek, about 2 miles east of Glenwood. Here, lush vegetation and a moderate climb quickly take one into a land of multicolored canyon walls and dramatic views of the valley. More adventurous hikers will find this trail a gateway to the hallowed Flat Tops Wilderness.
Despite Glenwood's many challenging trails, the town has several venues to quickly sooth a day's aches and pains. Smack in the middle of town is the famous Hot Springs Pool, billed as the "world's largest natural hot mineral water open-air swimming pool." While far from being a backcountry, secluded hot springs, the Hot Springs Pool is tastefully developed and the temperature is not-too-hot and not-too-cool. A short walk from the pool is the Yampa Spa and Vapor Caves, a truly freaky place to melt into a higher state of consciousness. The vapor caves are a must-see, with various underground "rooms" through which hot subterranean water winds its way, keeping the air hot and humid. Upstairs, the solarium is a place so relaxing, one quickly forgets their name, serial number and e-mail password.
To end the day, the short hike up to Doc Holiday's grave yields yet another view of the valley. The graveyard contains many interesting and historic final resting places. A more recent monument of note is at Two Rivers Park along the Colorado River. The memorial honors 14 fallen firefighters who perished last July while battling a blaze on Storm King Mountain. The tragedy at once demonstrates the ferocity of Mother Nature and the soul of the Glenwood community.


Glenwood's vaunted hot springs were developed around 1893 and hyped as Colorado's first major resort on the Western Slope. Glenwood's Hotel Colorado attracted tourists on their way to California, and it remains an excellent place to stay. Today, it's hard to say why Glenwood isn't on the lips of most western adventurers, but a stay here will quickly endear one to this quiet but challenging place.